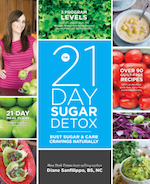 For the past 21-days, I've been on a sugar detox. Becky Reece, a long-time friend of Trish's, inspired us to do it. Becky is a nutritionist and we've always admired how fit she is. Becky challenged a bunch of her friends to do it, and Trish signed up. I told Trish I'd do it with her to make things easier from a cooking perspective.
To be honest, we really didn't know what we were getting into when we started it. Trish ordered the book the week before we started and it arrived a couple days before things kicked off. Trish started reading the book the night before we started. That's when we realized we should've prepared more. The book had all kinds of things you were supposed to do the week before you started the detox. Most things involved shopping and cooking, so you were prepared with pre-made snacks and weren't too stressed out.
We started the detox on Monday, September 22, 2014. That's when we first realized there was no alcohol (we both love craft beer). Trish shopped and cooked like a madwoman that first week. I think we spent somewhere around $600 on groceries. Trish wrote about our first week on her blog.
We are on Sunday Day-7 and made it through the first week with two birthday parties and a nice dinner out eating well and staying on track. I'm not weighing myself until the end, but my face looks a little slimmer, my skin feels smoother and my wedding ring is not as tight as it used to be. I feel great and have started to believe this is the last detox, diet or cleanse I will ever need. Cleansing my life of sugar could be a life changer especially when an Avo-Coconana Smoothie with Almond Butter Pad Thai becomes my new favorite meal.