In August, Trish and I journeyed on a 'round the world honeymoon, to Ireland, Italy, Thailand and Fiji. Trish had a Fiji poster on her wall when she was a little kid and has always dreamed of visiting its islands. Our first view of Fiji from the plane was stunning.
We left Thailand on Saturday, August 17. Yes, our flight from Thailand to Fiji was long. It was only a few hours from Koh Samui to Hong Kong, but Hong Kong to Nadi, Fiji was 10 hours. Our layover in Nadi lasted a few hours on Sunday morning. When we boarded the "Island Hopper" for Taveuni, Trish turned into a kid in a candy store. Trish earned her pilots license a few years before I met her and something about a 1960s-era plane excited her greatly.
It took about an hour to fly from Nadi to Taveuni. After we landed, a driver from our hotel greeted us and and drove us to our water taxi. The resort Phil booked for us was Qamea Resort and Spa, which we later found out was on an island with no roads.
As we were arrived at Qamea, we immediately noticed the Padi 5-star Diving Resort sign. We'd both been scuba diving certified in the past, but we hadn't planned on diving in Fiji. When we saw it was 5-star diving, we both looked at each other, smiled, and thought "why not?"
We were immediately impressed with our Honeymoon Villa. We especially liked our own private hot tub in the back. Hot Tuuuubbb!!
On Monday, we spent several hours writing post cards to friends and family. It rained the whole day, hard. That evening, Trish had too much Haha, but made lots of new friends.
On Tuesday, I received a "satisfaction survey" from the resort, asking how we liked our first two days. I'd received a plethora of mosquito bites on my legs and the rain was starting to wear on me, so I told them.
"The mosquitos bites and rain kinda stink, but I realize you can't do anything about that. It's been awesome otherwise."
Within an hour, I was introduced to "mile a minute", a local plant that could be mashed into a liquid and take away mosquito bite itching. It felt like a miracle.
That afternoon, we had our first dive, which consisted of a 5-minute "refresher course" and the most unbelievably clear waters and colorful coral I've ever laid eyes on.
From there, the whole trip just got better and better. The sun came out and we quickly realized we were in paradise.
We visited the Qamea Spa and had the best massages of our lives. They had the music that every spa has - the sounds of the jungle. But the music was the sounds of the Fijian jungle through the open windows. The way they massaged your muscles never induced pain, it just warmed them up until they were like pudding. And I still had some itching from the 50+ mosquito bites on my calves. I felt like a dog ferociously scratching his belly while getting petted when the masseuse was rubbing my legs vigorously. It was simply heavenly, the best massage I've ever had. Trish agreed wholeheartedly.
Wednesday night was our first night dive. I sucked on my respirator like I'd just run a 5K, but we still managed to have fun and see lots of cool fish. And when I say lots, I mean around 100,000. The number of fish we saw when diving and snorkeling was unbelievable. We dined in our own private cabana on the beach that evening.
On Thursday, we did a waterfall hike with a group from the hotel. Percy was our guide and he was awesome. We took a boat from Qamea to Taveuni, then drove in a van to the trailhead. We saw two waterfalls, got rained on, sweated up some steep hills, dove into the waterfalls and had a really great time.
Thursday is when we really started to bond with the resort's other guests, as well as the managers. The intimate setting of paradise on an island, with no distractions, was very peaceful and healing for the soul.
We made it back to the resort in time for our 2:00 dive that afternoon.
We went snorkeling a few hours later. It was just as good as diving, without the heavy breathing.
I surprised Trish with Qamea's Night of Decadance that evening. Two Fijian Warriors showed up at our room to guide us to the spa. We bathed in the relaxing goodness of Fijian masseuse hands, followed by an outdoor candle-light, rock-walled shower. After the spa, they led us back to our room, where they'd setup a candlelit dinner on our porch, with steaming lobster and white wine. It was the perfect way to spend our last honeymoon evening.
On Friday, we slept in later than we planned, waking up around 10am. By 11, we'd eaten breakfast and were diving into the ocean for one last snorkel expedition. That afternoon, we departed Qamea with a certainty that we'd return someday.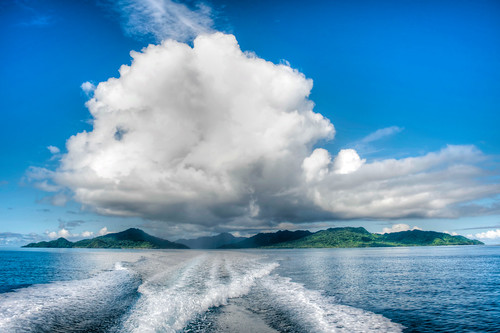 Our flight from Taveuni to Nadi was equally exciting for Trish the second time around. She loved the analog instruments and how the pilots had to join hands to push the throttle forward for lift off.
We left Fiji on Friday evening and had a brief stopover in Apia, the capital of Samoa, at 1am. It was a strange stopover as they made us go through security and almost took some of the souvenirs we'd purchased in Fiji. Remember, we still didn't have any checked luggage, so we were carrying all our clothes and souvenirs. The bar was open though, so the hours passed quickly.
We re-boarded our plane in the early morning and landed in Honolulu, Hawaii on Friday morning. We were drinking Mai Tais in Hawaii before we even woke up on the same day! We boarded our flight for Los Angeles around the same time we were snorkeling. We landed in Denver on Saturday morning on the same day and time that we had been in Samoa.
We checked our bags for the first time when flying from Honolulu to Denver (via LA). Wouldn't you know it - they got lost and arrived in Denver 24 hours we did.
What was our favorite place of our 'round the world honeymoon? Ireland felt like a big hug, because the people were so warm and joyous. Italy's tunnels, wine and gastronomy were incredible. Thailand's spicy food, views and smiling people were a joy. But Qamea was different. Its intimate settings, wonderful diving and family-like resort staff made it just a bit more special.
In ten years, we hope to do it all again, this time with Abbie and Jack. It sounds crazy after writing about all these wonderful places, but one thing is for sure. There's no place like home. We're over the moon to be married and back in Denver.
We took around 1000 pictures in each country, but managed to widdle it down to the 20% that we loved. Trish's photos of Fiji can be found in Fiji: Around the World Honeymoon - Final Stop, Qamea!, while mine are in Around The World Honeymoon: Last Stop, Fiji.