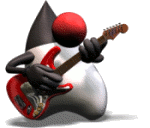 This year marked my first time speaking at JavaOne. It seems to have gone well, especially since audience feedback resulted in a JavaOne Rock Star Award. I'm very humbled to be listed with some really great speakers. Congratulations to all the other Rock Stars - as well as everyone that had the courage to submit and present a talk this year!
For the top sessions at JavaOne 2013, Oracle worked with Parleys to capture the audio and synch it with the presentations. They published them in a
JavaOne 2013 Channel
and
my presentations
were included. Without further ado, here they are for your viewing pleasure.
If you happen to watch these and have any feedback, please leave a comment or send a tweet to @mraible.