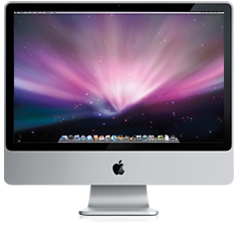 I bought my first Mac in January 2002. I had dreamed about a PowerBook for years before buying it and was very excited when it arrived. A couple days later, I discovered it was practically worthless because it was so slow for Java Development. I used it for pictures and music, but not much else. Through the years, I owned a couple more PowerBooks, but rarely found them fast enough to use on a day-to-day basis. I kept doing most of my development on Windows.
In January 2006, everything changed. I kept my Windows box around at home, but mostly because it was connected to my 23" monitor and I didn't feel like switching things out. When I moved last summer, I put my Windows box in a closet and bought a 30" monitor. I've hardly touched that Windows box since. Of course, it helps that I have Parallels installed on my Mac.
Now I have two MacBook Pros (a 17" I bought and a 15" that LinkedIn gave me). Last year I convinced my sister to buy a MacBook. Time I've had to spend in the last year helping her fix it: 0 minutes.
Yesterday, I took my Dad to his local Mac store and helped him buy a 24" iMac.
The Raible Family is now an all-Mac family and I work at an all-Mac company.
Life is good.