Raible Road Trip #9 was to the cabin last year for the 4th of July. This year, we're taking it a whole new level. Going to the cabin for the 4th is a good time, but the huckleberries aren't ripe yet. This year, we've decided to go the first week in August instead.

OSCON is at the end of July and visiting Portland in late July is awesome. My parents have agreed to watch the kids during OSCON, and July doesn't want to travel to Oregon (she's rather enjoy some "down time"). Because of all this, I've come up with quite the travel plan for Raible Road Trip #10.
On Saturday, July 22nd, James Goodwill and I leave from Denver and drive to Salem, Oregon - where my parents live.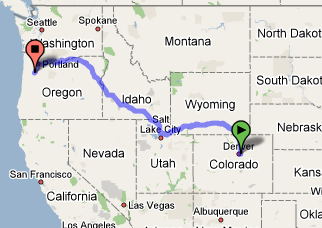 According to Google Maps, this trip should take about 21 hours. We expect to arrive in Salem sometime Sunday night. We'll hang out in Oregon until Tuesday morning. Then I'm flying back to Denver to pick up the kids and return to Portland the same day. On Wednesday and Thursday, I'll hit up OSCON and its festivities. Thursday's Geronimo Live event followed by the Oregon Brewers Festival on Friday should be a lot of fun.

On Sunday, my parents, the kids and I will be heading to The Cabin.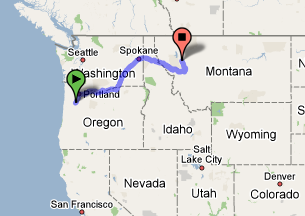 Julie's flying into Spokane, WA that Sunday, so we'll pick her up on our way and hopefully arrive at the cabin sometime Sunday afternoon. From there, we'll all enjoy a week of relaxing, huckleberry picking and good family fun. We'll head back to Denver late that week, spending a night in Yellowstone Park along the way.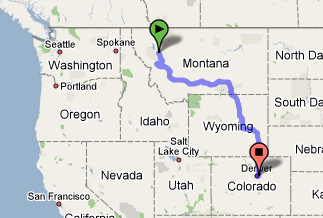 Julie thinks I'm nuts for all the driving I'll be doing on this trip. She calculated it up tonight and it's something like 46 hours. I'm pumped about the whole idea and can't wait for it to begin. I love road trips, especially when doing them with family and friends.

Update: As Sanjiv mentions in the comments, Yahoo Maps has a much better representation of this trip.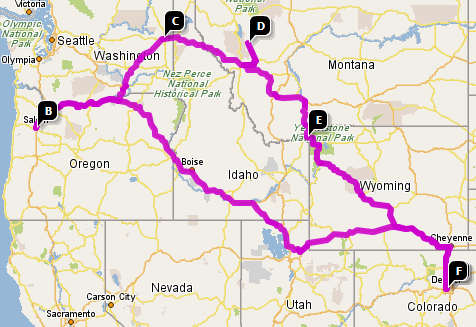 Total Distance: 2920.6 miles, Total Travel Time: 48 hours 8 mins