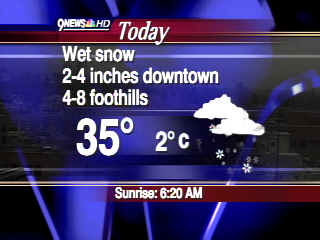 Today is a cold n' dreary day in Denver. It's been raining since about 8:00 this morning and it's supposed to turn to snow by this evening. Did that stop me from riding my bike to work today? Hell no! There's nothing like riding in cold rain to make you feel alive.
We have a SNOW AND BLOWING SNOW ADVISORY in effect through 6pm for the I-25 corridor and Denver Metro Area. Heavy, wet snow for the downtown Denver Metro Area with 1-4 inches on the grassy areas by this evening. Roads will get slushy by this afternoon in the Denver Metro Area. Western Douglas, western Jefferson and Boulder counties may see icy and snowpacked roads by later today with colder temperatures and 3 to 6 inches by this evening. We may see 4 to 8 inches above 8000 feet.
My pants and coat were pretty soaked when I got here, but I brought a change of clothes, so I've been nice and dry ever since. I'm heading to the Denver JUG meeting tonight after work. I expect 2-3" of fresh snow on the ride home later tonight. With lots of snow in the hills tonight, tomorrow might have to be a "ski day".

Update: No ride home for me - I forgot my keys in my office when I went to DJUG. No access to the office == no bike ride home. Took a cab instead. Too bad, it didn't snow much and would've been a nice ride.