At the beginning of October, I did an informal poll on the AppFuse mailing list to see which web framework users were developing their applications with. Surprisingly, Spring came out on top, and the component frameworks (JSF and Tapestry) are the least used. I find this interesting b/c AppFuse lowers the barriers and reduces the learning curve for all of these frameworks.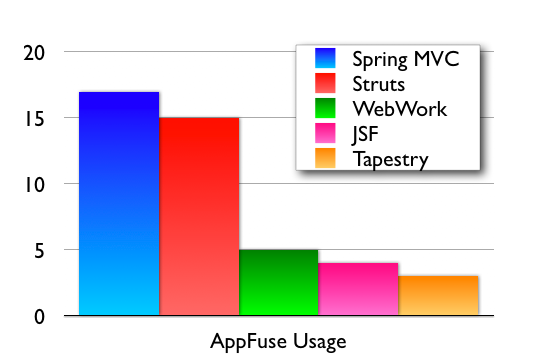 If you're an AppFuse user and didn't respond on the mailing list, please leave a comment with the web framework you're using.

On a related note, I noticed that java.net added RSS Feeds for mailing lists today. This means if you have an RSS Reader, you can subscribe to the AppFuse user mailing list.
Heh, I just subscribed and there's no messages in the feed. Maybe this feature needs a little more work.