Ever since Virtuas shut down a couple weeks ago, I've been having a blast. Mostly, I've been working on AppFuse, but I've also been spending more time with Julie and the kids. Where I work varies from day-to-day. Some mornings, I'll head to our local Einstein's or the close by Spanky's Roadhouse. Other days, I'll work from home and let the kids harass me all day. I'll admit, there's some days that are frustrating when I'm about to solve a problem and the kids are yanking my fingers off the keyboard. However, there's others where the music is cranked, the kids are dancing in my office, and I just solved a problem that was bugging me for the last 6 hours. There's nothing like having a Woo hoo! after solving a problem you've been wrestling with all morning. It's even better when there's friends around to help you celebrate. My whooping and clapping often leads to games of "horsey", happy kids, and a worn out dad.

In AppFuse news, I finished all the web framework tutorials a couple nights ago. Since the beginning of this year, I've written over 100 pages worth of AppFuse documentation. Wednesday's "the web tutorials are done" was a huge milestone and it feels great to be done with it. We hope to release 2.0 M3 in the next few days.

Yesterday, after getting 8" snow reports from Beaver Creek two days in a row, I suggested to Julie that we "head for the hills" for a day of skiing. She agreed and we left a few hours later. We ended up at Keystone since they have cheap skiing for kids and it's one of the closest ski resorts to Denver. Leaving last night was brutal. It starting snowing around 2pm and we left town around 5:30. We quickly ended up in rush hour traffic and it took us an hour just to get out of town (to the top of Lookout Mountain). Once we hit Idaho Springs, the roads improved and by the time we got to the tunnel the roads were bare and dry.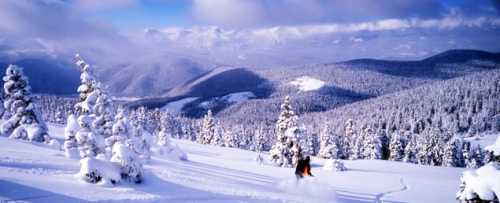 Coming up here last night turned out to be a good idea. Denver experienced a record low of -18° F this morning. Furthermore, there were wicked winds and west-bound I-70 was closed for 9 hours this morning because a semi blew over and spilled all of its 2000 gallons of unleaded. I watched the story on the news and was quite impressed when I heard the wind was so strong it was blowing windows out of cars.

The skiing at Keystone today was bitter cold (-15 to -25 °F with wind chills), but I made it work. Hot Cider and bump runs are excellent ways to keep warm. Now we're sitting in the condo we rented and waiting for the kids to wake up so we can enjoy FAC at the local bowling alley.

Life is good.