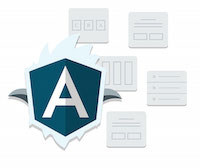 I was recently tasked with doing some research to figure out the best way to use Foundation with AngularJS. Goals for this research included:
Identify use cases of Foundation for Sites vs Foundation for Apps and recommend when to use each.
Look at pros and cons of using AngularJS with Foundation for Sites.
I'm writing this blog post to get feedback from you, fellow web developers, on your experience with Foundation. Have you tried using Foundation for Sites with AngularJS? If so, did you experience any pain?
From what I can tell, it looks like Foundation for Apps (FA) was created because folks had issues making AngularJS and Foundation 5 play nicely together. The Next Foundation explains why FA was created. Reddit's web_design zone has quite a few comments related to this article.
From there, I found a few ZURB blog posts that describe FA's three main advantages over Foundation for Sites (FS):
This thread on the Foundation forums seems to indicate that FA would be good for developing applications while FS would be good for an intranet built on WordPress (since it's more of a website than a webapp).
[
Read More
]