A few weeks ago, a friend recommended I join Hertz #1 Club Gold. His reason was simple - you can walk out of the airport, read your name on a board, jump in the car and go. No talking to anyone, just get your rental car and you're on your way. It sounded like a good idea, so I signed up.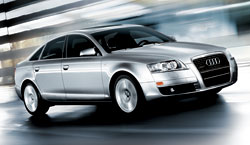 Last week, I went online to reserve a car for this week's trip to Mountain View. I chose the cheapest car, and was subsequently prompted to choose an Audi A6 from their "Prestige Collection" for less money. I went for it.
This morning I hopped in the car at SFO and was immediately impressed. It's probably one of the nicest cars I've ever driven. It's not as fast as the Cayenne Turbo I drove for a week in Florida a couple years ago, but it's certainly a slick car. You can even talk to it to get it to change radio stations and such.
It's too bad I only have the car for one more day. I'm heading to TSSJS tomorrow night in Vegas. I wish there was a way to cancel my flight and drive instead.