10 years ago yesterday, I released the first version of AppFuse. It started with XDoclet generating ActionForms from POJOs and became very popular for Struts developers that wanted to use Hibernate. The project's popularity peaked in 2006, as you can see from the mailing list traffic below.
It's possible the decrease in traffic is because we re-wrote everything to be based on Maven. It's also possible it was because of more attractive full-stack frameworks like Grails and Rails. However, the real reason is likely that I stopped working on it all the time due to getting a divorce becoming an awesome dad.
Below is a timeline of how the project evolved over its first 4 years.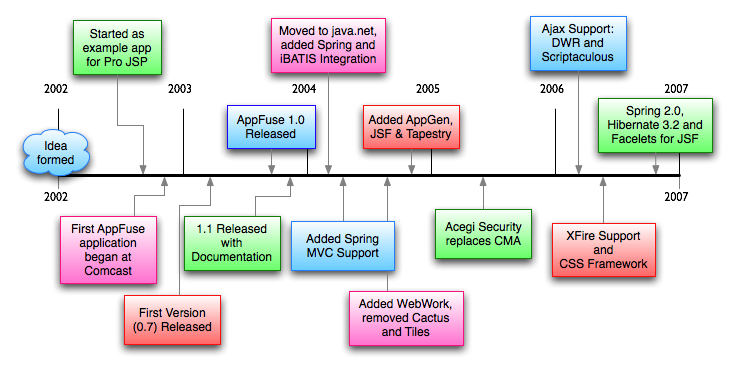 AppFuse has been a great project for me to work on and it's been a large source of my knowledge about Java, Web Frameworks, Spring, Hibernate - as well as build systems like Ant and Maven. We started with CVS, moved to SVN and now we're on GitHub. We've experienced migrating from Tapestry 4 to Tapestry 5 (thanks Serge Eby!), upgrading to JSF 2 and enjoyed the backwards compatibility of Spring and Struts 2 throughout the years. We've also added REST support, a Web Services archetype and kept up with the latest Spring and Hibernate releases.
Last year, we added Bootstrap and jQuery as foundational front-end frameworks. For our next release, we're switching to PrimeFaces, adding Wicket and changing from jMock to Mockito. Most of these changes are already in source control, we just need to polish them up a bit and add AMP support. I hope to release 3.0 before the bus is done.
Thanks to all the enthusiastic users of and contributors to AppFuse over the years. It's been a great ride!