You have to love how easy they make this.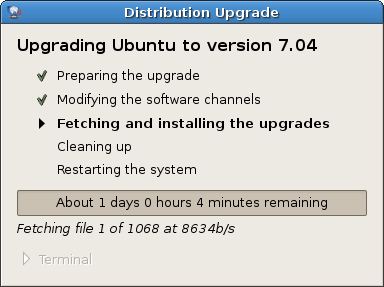 The time doesn't seem accurate as it originally told me it'd be about an hour. Regardless, I love how easy it is to upgrade Ubuntu from one version to the next. I wish openSUSE had a similar feature.
Update - 3.5 hours later: This might take a while...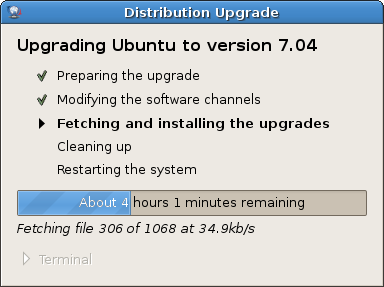 Update - during FAC: It's failed twice now and left my OS in a corrupted state both times. I suspect the MADM (or whatever it's called) prompt at the end of the download. I've entered "all" and "none" and it's failed with both values. VMWare rocks - I'm so glad I didn't ruin a working system. I'll be sticking with 6.10 for a month or so.

... and Country Bry is right - calling it by it's code name vs. the version number is pretty cheesy.